These festive Holiday Baubles (Forever®) stamps feature four colorful ornaments sure to add to the joys of the holiday season. These baubles may also inspire fond memories of beloved tree ornaments from childhood-objects that still have the power to enchant us today. Imagine how cute they will look on your Christmas cards with the bright colored envelopes!
While styles from the 1950s inspired the ornaments depicted in the stamp art, sincere wishes for happy holidays never go out of fashion. These stamps offer a fashionably "retro" way to enhance the season's greetings.
Evergreen trees and branches have been used as winter holiday decorations for hundreds of years. Trees were trimmed with fruit — apples were a popular choice — and nuts, candies, or paper. Glass ornaments first appeared in the late 19th century, in Germany, and their use quickly spread to other countries.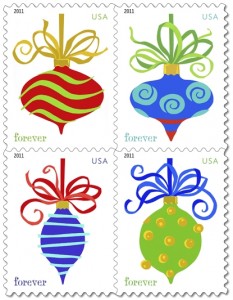 William J. Gicker art directed these stamps using illustrations by Linda Fountain. Drawing on styles popular during the 1950s, she first sketched the ornaments then rendered them using cut paper. These renderings were scanned and turned into digital files. The actual objects are slightly larger than a sheet of typing paper.
These stamps are being issued in books of 20 self-adhesive Forever stamps, with five of each different design. Forever stamps are always equal in value to the current First-Class Mail one-ounce rate.
Made in the USA. Get them at your local post office starting October 13th, or you can pre-order at USPS.com Find them here