Check out our Green Grinchy Canes! Your kid will love these! I recently bought a box of Spangler candy canes in watermelon flavor that are just perfect for this project. Not only will your kids get a kick out of these, I think they would be really cute to give out as party favors at holiday parties. I've had all kinds of interesting Christmas Gift ideas lately. There's no doubt, kids of all ages will enjoy getting these cute Grinch inspired candy cane crafts.
You can make your own tags to attach to the candy canes or download our pre-made templates below.
What you need:
Green Candy Canes
Grinch Poem Tag
Curling ribbon
Hole Puncher
Scissors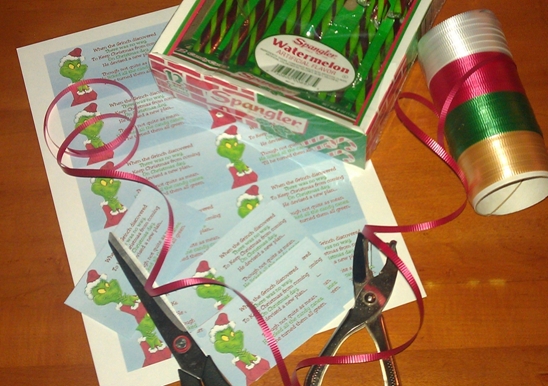 Print out the Grinch tags on card stock and cut them out. Punch a hole near the upper left corner of each one. Cut curling ribbon into 10 or so inch lengths. Thread the curling ribbon through the hole in tie to the bend of the candy cane. Then use the scissors to curl the ribbon by dragging the edge of the blades along the ribbon really fast.
If you're going to make your own tags to attach to the candy canes use the following poem. Simply attach the poem to the green candy cane with the curling ribbon.
When the Grinch discovered
There was no way,
To Keep Christmas from coming
On Christmas day,
He devised a new plan…
Though not quite as mean.
He licked all the candy canes,
'Til he turned them all green.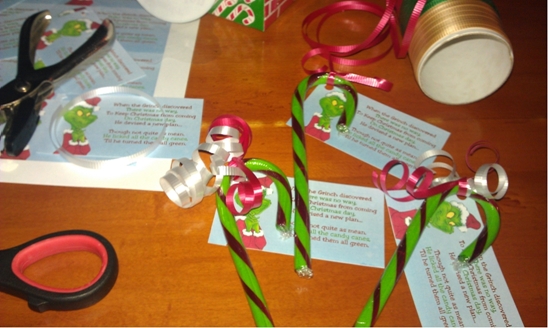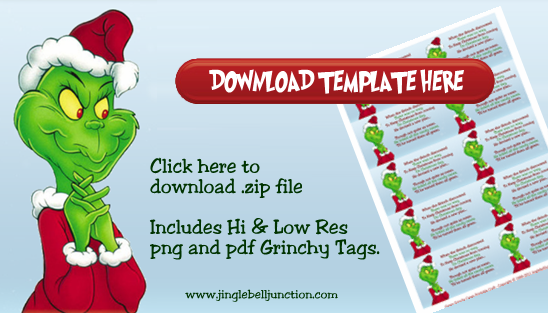 Our Grinchy tags are formatted to fit Avery business cards, use template #5371.