To some it comes naturally, like athletic prowess or maths genius, but to others wrapping up presents for Christmas is akin to rocket science, and aside from an inability to use paper to wrap up presents, they are also bereft of ideas for packaging anything other than a DVD case. Here are a few helpful tips for the basic presents, as well as a few ideas for wrapping up more unusual gifts.
Wrapping technique
Of course, there is no gift wrapping rule set in stone, and it always depends on the particular item you're wrapping, but for a square/rectangular shaped present, there are a few guidelines you can follow to make it easier to handle:
When the paper is laid out with the present, leave an extra inch or so of overlap to make sure there will be enough paper to wrap round.
For gifts that aren't rectangular, find a suitable box to make wrapping easier and keep the recipient guessing!
If perfection is your aim, go for paper that comes rolled rather than flat, as it will have fewer creases in it which might show up on the wrapped present.
Transparent sticky tape is better for a cleaner look on the end product.
Protecting items
For non-standard gifts it's easy to forget about keeping the item safe, especially if sending in the mail. You don't want to damage your Christmas gift in transit, or the beautiful wrapping job you did either! Delicate items should be completely wrapped in bubble wrap for transit. For heavy packages, it's worth investing in high-grade cardboard boxes that won't rip when carried, can withstand being stacked on top of, and also where appropriate can hold-up against moisture, keeping gifts safe. For perishable goods like food or plants, it's important to keep them at the correct temperature, and avoid transit/delivery if possible, unless relevant arrangements have been made.
Other ways to present your gifts to others…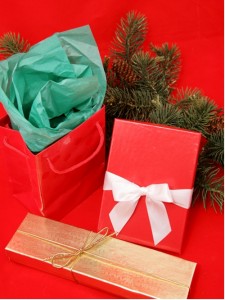 Aside from putting in a box and wrapping up, there are many other ways to present gifts for loved ones at Christmas. One way is in a hamper or basket, which is especially suitable for large amounts of smaller items, such as a basket of grooming products like bath salts and shampoos, or the more popular option of a food hamper which traditionally contain a variety of jams, meat, spreads and general condiments around Christmas time. There is also the option to encase a present in visibly recycled material for more environmentally conscious friends and family, the likes of which can nowadays be bought from most card shops. Of course there's always the handy gift bag quick wrap method. Gift bags are inexpensive, come in all kinds of cute Christmas designs and patterns. There's an array of sizes to choose from sure to fit any gift… stuffed with a little colored tissue paper to hide the gift makes a beautiful presentation you'll be proud to give!
This article is courtesy of Rajapack.