I don't know about you, but my love for Chocolate takes a backseat only to my love of Christmas. Hands down the two C's are my favorite things, and they go perfectly together. Here's a few fun things you might not have known about Chocolate and Christmas!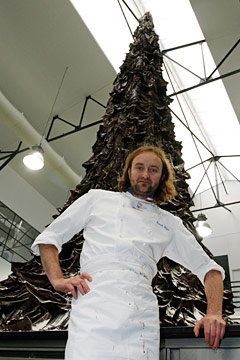 Did you know that the worlds tallest chocolate Christmas tree was made by Patrick Roger who is one of France's most famous chocolatiers? He unveiled the massive 32-foot-tall, 8-thousand pound (4-ton) chocolate Christmas tree in his studio in in Sceaux, south of Paris – setting the world record for the Tallest Chocolate Christmas Tree in late 2010. His Chocolate Christmas Tree, which took a month to make and used $45,000 worth of 65 percent dark chocolate, attracted worldwide media attention and established him as the hot new name in large-scale chocolate sculpting. And why's he do it? For charity of course. He auctioned off parts of the tree and donated proceeds to an organization that studies neuromuscular disease.
The previous world record for the tallest Chocolate Christmas Tree was set by Alain Roby, 54, who constructed a 22-foot-tall chocolate Christmas tree for a holiday display in a Hong Kong shopping center. Although his work was never submitted to Guinness World Records for recognition, it nonetheless stood beside a vertical banner that proudly declared it a "New World Record."
In 2011 80 chefs from the Pudong Shangri-La Hotel in Shanghai put in long hours for seven straight days to make a giant Chocolate frosted holiday cake, which measured 3,503.94 feet according to Cheng Dong, an official adjudicator for Guinness World Records. This dwarfed the previous world record of 681 feet, 9.12 inches, set in 2010 by Philippe Gardette, Jean-Claude Méritte and Nathalie Raphael in La Defense, Paris, France!
THe Shangri-La chefs used 904 eggs, 2304 lbs of flour, 461 pounds of sugar, 884 pounds of bitter chocolate and 75 pounds vanilla to create the giant holiday treat! Getting a taste of what it's like to break a world record was an awesome experience for the chefs, and bystanders got a taste of their own. Centimeter-sized portions were sold for 31 cents a piece with the money going to support four local children going through chemotherapy treatments.
The Guinness World Record for the largest chocolate bar weighed just over 9,722 lb and was made by Armenian-Canadian JV "Grand Candy" Co Ltd, in Yerevan, Armenia. Now that's a Christmas gift I would love to get!