I've been decking the halls for the last two weeks, finding nooks and crannies to stuff all my Christmas decorations into. I've got greenery around the door frames, and my tree is all up. I've got my collection of nutcrackers on display, and the hutch is packed full of all my Santa figurines and other Christmassy nick-nacks.
The one thing I hadn't been able to display is a cute little wintery village that I've been collecting for a few years now, because I've simply ran out of room. Last night my hubbs asked why I didn't just put it on a shelf… then suggested I use the empty space by our Christmas tree on the wall, and the Van Gogh 'Starry Night' poster as a backdrop… this is a GREAT idea, so we made it happen, check it out:
Here's the odd space in question, you can see the empty space left from the couch being moved to put the tree in it's place.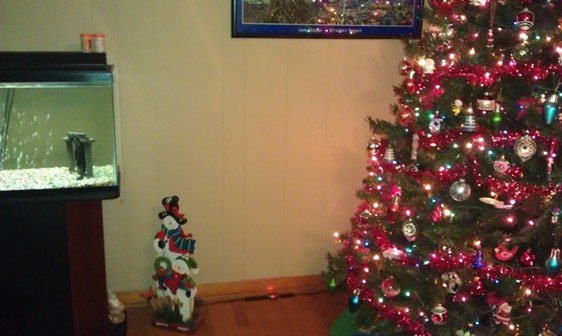 We stepped out to the garage and found that we already had every thing on hand to finish our project in no time. A pine board – ours is 3 feet long by 7 inches wide, 2 brackets and some screws.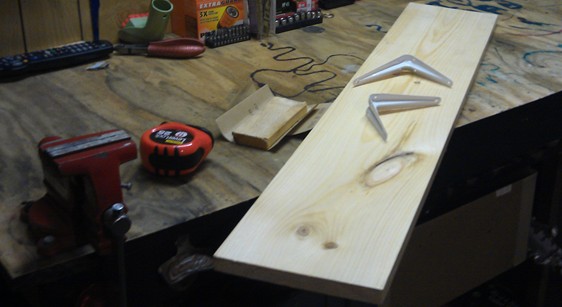 The first thing we did was center the poster between the fish tank and the Christmas tree. Then we mounted our shelf directly below it.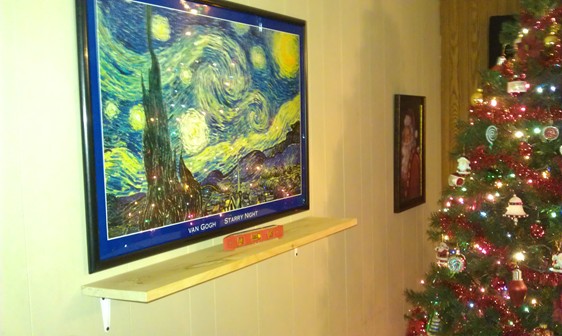 I used some white foam blocks to make my village just the right height, then covered it with a snow blanket Christmas tree drape. It was an awesome glittery mess!!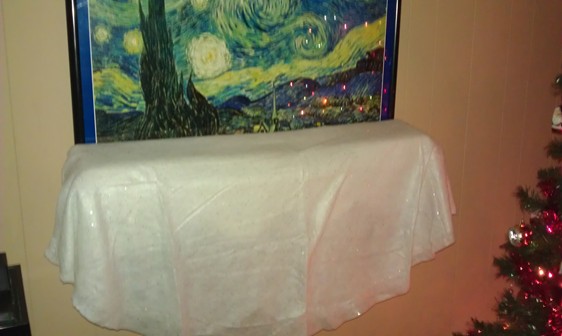 Next, I got out my little village houses and figurines and set them in a row. I mixed in some cute little flocked bottle brush trees, and finished it off with a strand of LED white snowflake lights up around the poster frame.
I'm pretty happy with the way it turned out, and think it's definitely better than the odd space that was left before. Merry Christmas, y'all!