Check out this cute North Pole sign… it's easy to make, and is an adorable addition to your Christmas decor. This homemade Christmas craft project is a fun and easy thing to make during the Christmas holidays. It's easy enough for both kids and adults to put together and would be a fun craft to gather the family around the table to make together.
What you need:
Paper Towel Roll
1 8.5 x 11 Sheet glossy paper – or white craft paint
Tape – or paint brush
Red Ribbon in multiple widths
Red Cord
6 x 6 square of Corrugated Cardboard
Scissors
Hot Glue
Hot Glue Gun
Gold Glitter
School Glue
3 inch foam ball
Plastic Snow Flakes (optional)
Printable North Pole Wooden Sign (click for template)
How to make it
1. Wrap the sheet of glossy paper around the paper towel roll and secure the seam with tape.
-OR –
Paint the paper towel roll with white craft paint, let dry.
2. Use your red ribbon to wrap around the paper towel roll to make the candy cane stripes. Tape or glue in place.
3. Glue the foam ball to the end of your candy cane North Pole, let dry completely.
3. Paint the foam ball with white glue and sprinkle on gold glitter. I did mine in sections letting each dry completely before moving on to the next. (I put a couple of drops of food coloring in my glue so I could see where I had painted.) Let dry completely, then go back and fill in any bare spots. Wooo… look at that sparkle!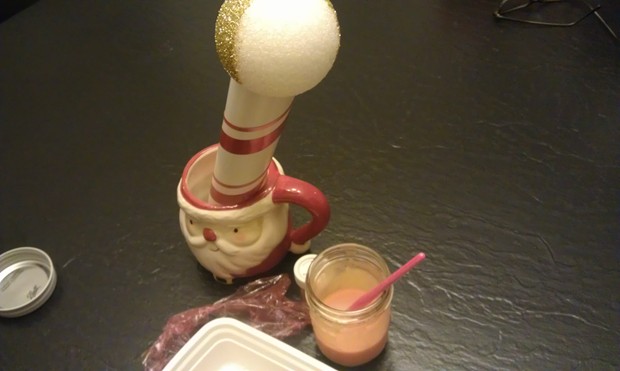 4. For the base of the North Pole, I used 3 layers of corrugated cardboard (recycled USPS priority boxes) glued together, since this is a bit top heavy. The cardboard I used was already white, but if yours isn't, you'll want to paint it, and let dry.
Hot Glue the other end of the paper towel roll to the middle of the base.
5. Glue Red Cord around the base to hide the cardboard's edges.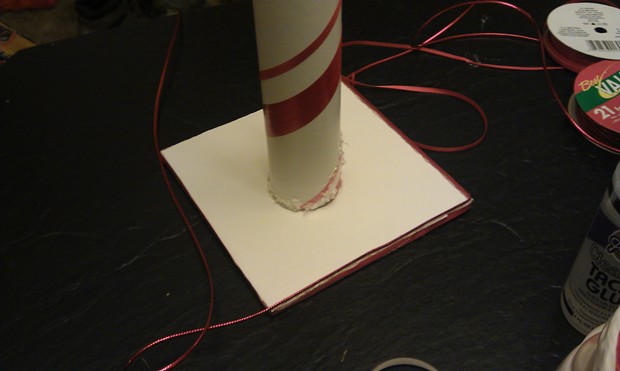 6. To make the snow around the pole, I used hot glue and plastic snowflakes. Just keep adding glue, then sprinkle on snow. You can build it up as much as you want. or leave it off completely.
7. Print and cut out the wooden North Pole sign, glue it to your North Pole.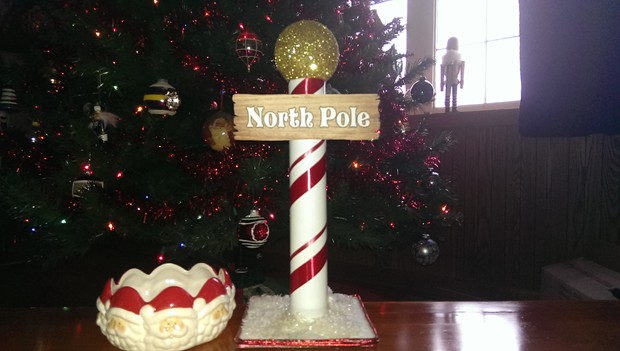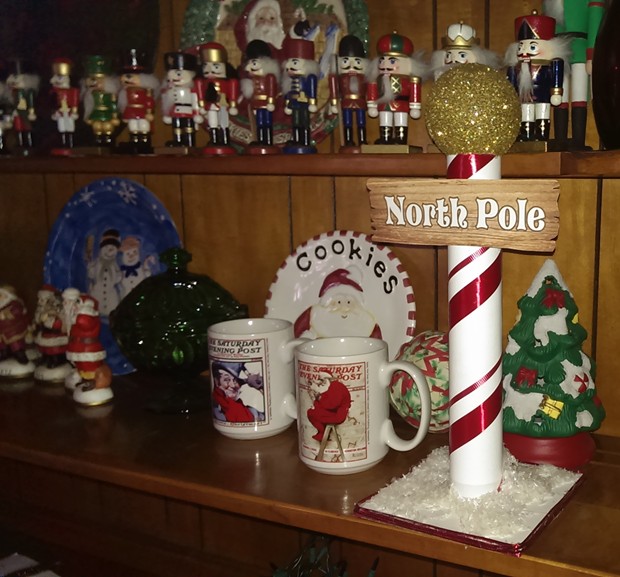 Happy crafting! If you make one, I'd love to see it, hit me up in the comments… Merry Christmas!