I got into a whole new world last year when it came to crafts. Yup, the cursed mesh wreath craze that blew up pinterest – But I personally blame YouTube.
Anyway, I spent a small fortune at the dollar tree, dollar general, and of course Pat Catan's buying up mesh of different lengths, textures and colors – not to mention ridiculous amounts of spools of wired ribbon, sprigs of fake flowery doohickies, other floral like embellishments all covered in glitter, plastic ornaments (I actually had a nice stash from big lots last year, JACKPOT!!), hot glue, pipe cleaners, and any other cheap little trinket I could find. I found wire wreath forms at dollar tree – but they sold out quickly as it is a huge savings over getting them from Pat Catan's. But Pat Catan's had larger sizes available, and other shapes.
That being said – I obviously went overboard. I bought enough craft stuff to make a half dozen wreaths, so of course I made a couple 'prototypes' to practice on and to get the creative juices flowing, I gave those as gifts. You don't have to spend a fortune if you're just making one. And you can find the smaller sized mesh ribbon at dollar tree and dollar general – which is what I used.
Here's the one I kept for myself, I couldn't be happier with how fancy it looks! I saw pre-made ones at Wal-Mart for $26 that didn't even compare to the snazz factor of mine. By my guesstimate I have about $15 in materials in it.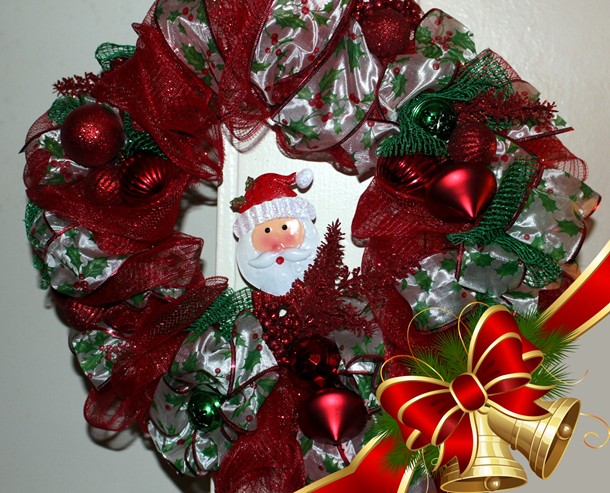 I over stuffed mine with handmade wired ribbon bows, ornaments and floral decorations. I noticed that even though I bought my wreath ingredients at three different stores, in the end.. everything on my wreath, except for the ornaments (remember, I had my big lots ornament stash), came from the dollar tree! IDK how that happened, it wasn't intentional.
Alright. So are you ready to make the mesh Christmas wreath of your dreams? Here is a great YouTube video tutorial to get you started. Once you get the mesh on the frame, you can embellish away.

I did not stick to the rule of 3 and 5 like a lot of crafters do. I just started sticking in bows and clusters of ornaments all willy nilly all over it. I just wanted it to be as full of glittery flair as possible. I would love to see what you guys make, post some pictures in the comments!